Your shopping cart is empty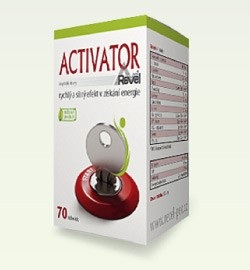 395,- Kč
(price incl. VAT)
Strong effect of gaining energy

Useful in moments of tiredness (rapid effect)
Suppresses feeling of hunger (weight reduction)
Increases sexual enjoyment and libido
Can be used instantly
Effect lasting more than 12 hours
70 capsules per package
This dietary supplement is particularly suited for:
Vitality – energy gain

Studying – prolongs concentration

Weight reduction – lowers sense of hunger

Driving – increases alertness

Management – for mental and physical strength

Sex – increases enjoyment and libido

Sports – increases strength and stamina

Nightlife – destroys hangovers

295,- Kč
(price incl. VAT)
Increases IQ for all users (

recovery

after its reduction)

Improves current state for Alzheimer's patients
ALPHA application causing
very strong effect
Positively influences mental state
and reaction speed
20 capsules per package
This dietary supplement is particularly suited for:
Continued use (seniors):
Alzheimer's disease – symptom reduction

One-time use (everyone):
Increasing IQ – aiding concentration

Faster reactions – sports and games

Studying – increases learning ability

"Scan disk" – quickly clears the mind

Sobriety – reduces withdrawal symptoms

Revel food supplements
All REVEL natural products have been registered and introduced to the market after several years of development. Our expert biochemical laboratory has prepared them in the form of dietary supplements. Precisely balanced proportions of substances that match the needs of the widest possible population achieve truly amazing results, even though the products are not classified as medicines. Alpha Application could be the long-sought key to the treatment of many mental illnesses and handicaps, including even brain damage caused by alcohol or drugs. Development of powerful medicines for this area involving the ALPHA Application, however, currently surpasses the possibilities of REVEL-PEX and would require a strong partner. One clear advantage of dietary supplements, however, is that they are practically incapable of causing harm, and their combination with prescription medicines is not dangerous. Nonetheless, we do recommend that persons suffering from illness consult their doctors regarding the parallel use of REVEL dietary supplements with their prescriptions.
REVEL dietary supplements work similarly to the release of money into individual areas of a budget. However, if you truly are at the end of your capacities and have nothing to release, it is necessary to stimulate genuine energy, which is best in the form of simple sugars or MCT oils.